Mountain Festival 2019: in the evening and in August only by bus
In the evenings from 9 to 14 August and on the 15th of August access to the Alpine Festival only with the buses of Autolinee Varesine.
"div style:"clear:both">

The Festival of the Mountain 2019, organized as usual by the Alpine group of Varese at the Campo dei Fiori, is also characterized this year by a marked attention to the environment.
Together with other news designed by the organizers (http://www.festadellamontagna.it/">http://www.festadellamontagna.it/ ), accessibility to the same Festival is confirmed in collaboration with the Municipality of Varese in 2019. ONLY IN AUTOBUS in the evenings from 9 to 14 August and on the day of August  (Thursday 15).
text-align:center;">DAL 9 TO AUGUST 14

 

From August 9-14, shuttle service will run from 5 p.m. to 2:00 p.  The road will be closed to all cars at the junction of the Sacred Mount/Field of Flowers (wide Schiavetta), except for the authorized vehicles.

The vehicles that had climbed in the hours before closing will be allowed to descend
.
s part: Palasport (via Manin corner via Valverde) with ample free parking.

TIMES: first uphill shuttle at 5:00  with frequency every 20 minutes, only intermediate stop at the Sacred Monte/Flower Field junction.

Last shuttle downhill at 24:00.


COST: Euro 2,00, single ticket valid round-trip. 

Tickets can be purchased at departure ( Palasport), at the intermediate stop and at the Party coffers.

Subscriptions and/or similar can't be used because it's an extra service.

 

15 AGOSTO (FERRAGOSTO)

 

On the day of August, as in previous years, shuttle service active from 9 a.m. to 5 p.m., always with departures from the Palasport (via Manin corner street Valverde

 

ONLY IN THIS DAY, all travel titles of the urban network are valid (ordinary tickets at a cost of 1.40 euros and valid 90 minutes, also available to buy at the moment; subscriptions

 

"p style"color: rgb(87, 87, 86); font-family: Arial, SansSerif; font-size: 14.4px;">Only intermediate stop: Sacred Mountain junction/Field of Flowers (wide Schiavetta); on return, also square Pogliaghi (top Holy Monte ).

 

Remember that August 15 is also active the normal urban service with TimeSESTIVE for all lines, including the C line for Sacred Mount which, from 9a.00 to 19.10, will ensure the interchange with the funicular.
Guarda anche: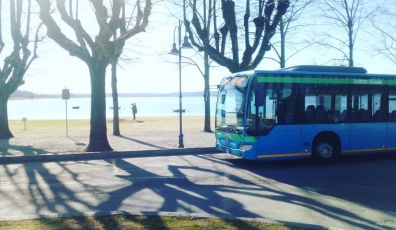 At the summer lake you go by bus
From Varese towards Angera, Luino, Sesto Calende and Monate a race every hour throughout the summer, thanks to the synergy between the bus company Varesine and the TPL agency